Welcome to the Atlanta Satsang
To receive notification about Atlanta Satsang Events, please subscribe to our mailing list by clicking here.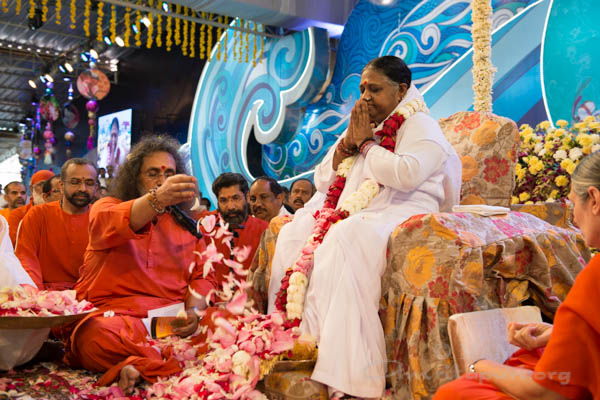 About Our Satsang
Our satsang meets regularly on the 2nd and 4th saturday of every month from 5:30pm - 8:30pm. All are most welcome to attend these satsangs.
The satsang program includes
Chanting 1000 Holy Names, Sri Lalita Sahasranama

Chanting of Amma's 108 Names

Reading from Awaken Children

Devotional singing, bhajans;

Peace Chanting

Waving of camphor flame, arati;

Closing Prayers

Meditation
Contact : 
Keshav Kumaran/Manasa Kumaran
South East Regional Coordinators
Amrita Bala Kendra Program For Children
The Amrita Bala Kendra program tries to give children an understanding of spiritual principles and shows them how to bring these simple teachings into their daily lives through stories, bhajans, field trips, arts and crafts, celebration of festivals and service projects. The Amrita Bala Kendra program focuses on values, traditions, and spiritual practices.
Classes are held Sunday Mornings from 10:00am - 11:30am in Johns Creek. For more information on Amrita Bala Kendra, please email Ildiko (Manasa Kumaran).
Service Projects
We also gather to do humanitarian projects throughout the region, such as cooking for children , working with seniors, planting organic gardens and other community service projects. You are more than welcome to come help us with any of these charitable activities.
Mother's Kitchen - Every Third Saturday of The Month . Hot Meals prepared for the children at Gwinett Children's Shelter, Lawerenceville Homeless Shelter

Seva at Meals By Grace, Cumming, GA
IAM Meditation 
Integrated Amrita Meditation Technique® is a simple combination of yoga, pranayama and meditation that takes just about 20 minutes a day. We offer IAM 20 and IAM 35(original) Refresher Courses once every quarter. If you are interested in learning IAM Meditation, please contact IAM South East Regional Coordinators Manasa Kumaran for IAM 20 And Keshav Kumaran for IAM 35 original at ammaga.satsang@gmail.com (770-309-6268)